Bird Malaysia's team consist of specialist birder guides who are members of the Malaysian Nature Society (MNS) and BirdLife International Partners for Malaysia with intimate local knowledge of the rich habitat of East and West Malaysia birds. With a collective birding experience of over 50 years, the team is well-respected in the Malaysian birding circle, and have been recognised by organizations and peers alike.
IRSHAD MOBARAK – FOUNDER
Irshad Mobarak has walk down the path of Natural History for over 30 years. He has been deeply moved by the plight of the animal and plant world and the perilous relationship they have with man at this moment in history . He has devoted his life to helping ordinary people unlock the mysteries of the natural world. To help achieve this role he founded Bird Malaysia under the Umbrella of Natural History Tours a company which specializes in wildlife tours with focus on birds.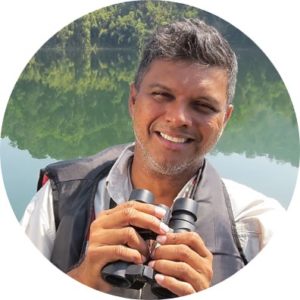 ANDREW SEBASTIAN – LEAD GUIDE
Andrew is Bird Malaysia lead guide. He is one of Malaysia's well regarded conservationist and bird guide. With over 20 years experience, Andrew has traveled all over the world promoting Malaysia as a birdwatching destination. He leads tours to all destinations in Malaysia and Indonesia, works with local communities there to develop their potentials. He is currently the President & CEO of Ecotourism & Conservation Society Malaysia , Co-founder of the Asian Bird Fair and Advisor to the newly created Wild Bird Club of Malaysia.
SRI – TOUR MANAGER
Sri has been working as Tour Manager  since 2005 and are responsible for organizing, planning and conducting long distance expeditions, travel, and tours for groups or individuals. She is the woman behind the scene that make sure your birding experience runs smoothly.